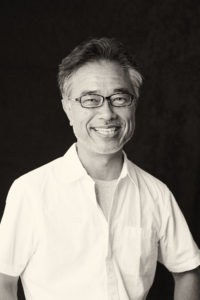 泉谷典彦/Norihiko Izumiya
フォトグラファー
撮影ユニット Ijt メンバー
1960年2月14日生まれ 秋田県出身
駒澤大学文学部地理学科卒業
【写真との出会い】
大学在学中、英語を話せるようになりたいと思い、(フランス語で有名な)アテネ・フランセへ通う。
教室に置いてあった一枚の写真をきっかけに、そこに勤めていた外国人教員からモノクロ写真の面白さを教わる。
英語は習得しないまま、写真にのめりこんで行った。

【写真の道へ】
大学卒業後、スタジオにてアシスタント修行をする道へ進む。
優秀とは言えない働きをする中、周りのアシスタントが徐々にスタジオを去り、2年が経つ頃にはたった1人、スタジオに残っていた。
ある撮影で初めて師匠に褒められ自信がつくが、同時期に「なんとなく」別の道も見出す。
日頃から読んでいた藤原新也『全東洋街道』などの影響もあり、旅に出ようと「なんとなく」決心。
旅には資金が必要だとスタジオを辞め、佐川急便で1年、過酷な労働と引換えに旅資金を貯める。

【世界旅行ヘ】
1988年世界旅行へ出発。
中国・ヨーロッパ・インド・中近東などを約1年半かけて周る。
旅を続けるほどに、特別だと思っていたことが特別ではないことに気づく。
自分にとって非日常であるはずの世界の何処かに、そこを日常として生きる人が存在する。
そんな気づきを得ながら様々な経験を重ね、世界中どこでも何とかなる、という生き抜くことへの自信を持って1990年帰国。

【もう一度写真の道へ】
帰国後は仕事もなく、撮影した写真を現像しながらのんびりと過ごしていたある日、一本の電話が鳴る。
昔同じスタジオで働いていたアシスタントの1人から「NHKの仕事をやらないか?」との話であった。
それを機に約6年間、ドラマ・ステージ・相撲などあらゆる撮影をする傍ら、雑誌や新聞文化欄の取材撮影へと仕事の幅を広げる。
同時に個展の開催、写真集の出版など写真作家としても活動を進め、中でも詩人 覚和歌子とは二度共作をしている。
そんな日々の中、またもやある一本の電話が鳴る。
今度は叔父から「教科書の仕事をしないか?」との話であった。
それから現在に至るまで約20年以上、小中学校理科・算数・生活科など教科書に関わる様々な撮影に関わっている。

【還暦を迎える、今これから】
その教科書撮影においてアシスタントをお願いしていた鈴木迅、平柳智子との相性の良さに可能性を感じ、
2018年、3人の頭文字を取りIjt(Izumiya,Jin,Tomoko)という名の写真ユニットを結成。
1人では出来なかった撮影スタイルで新たな世界観を創り出すことに挑戦し続けている。
今後は写真作家・カメラマン泉谷典彦として、Ijt 泉谷典彦として、生涯活動を続けていく。
Norihiko Izumiya
Photographer
Born Feb 14th, 1960, Akita, Japan
Graduated from Komazawa University, Faculty of letters, Department of geograph
-Meeting Photography-
When he was at college, he wanted to speak English.  He went to Athénée Français, a well-known language school in Tokyo.  In the classroom, he encountered a photo and a teacher at Athénée Français taught him the attractiveness of black-and-white photography.  Since then, he has been totally absorbed in photography but English.


-Into the World of Photography-
After college, he became an assistant/trainee at a photo studio. He did not think that he was doing very well at the studio, other assistants left the studio one after another.  After two years, there was only him as an assistant in the studio.
One day, his master photographer praised his work for the first time, which developed more confidence in him.  At the same time, he intuitively found a different way to express himself. He decided to travel around the world, influenced by one of his favorite books titled 全東洋街道 (zen-Toyo-kaido) written by Shinya Fujiwara. In order to raise money for travel, he quitted the studio and joined Sagawa-kyubin, a parcel delivery service company. He worked so hard to finance his trip to the world.
– Journey Around the World-

He went on a trip around the world in 1988.  It took one and a half years to travel to China, Europe, India, Middle-East, etc.  As he went on his journey, he found that things which once looked special to him are not special at all.  At every corner of the world where things seemed extraordinary to him, people are living their ordinary life.  Through his journey around the world, he developed his confidence to live wherever he happens to be.  He returned Japan in 1990.

– Return to Photography-
He had no job after coming home from his trip and developed his photos taken during his world trip. One day, he received a call.
The call was made by a colleague assistant at the photo studio where he worked in the past.  The ex-colleague asked him if he is interested in some works for NHK (Japan Broadcasting Corporation).  Since then, for the succeeding six years, he took many genres of photos ranging from TV drama, theater, to Sumo wrestling for NHK.  Also, he started to work for magazines and newspapers. 
As a photographer, he did solo exhibitions, published his photo books, and collaborated twice with Wakako Kaku (a poet).

One day, he got another unexpected call from his uncle, who asked him if he is interested in taking photos for schoolbooks.  Up until now, for more than twenty years, he has been involved in photos for books for elementary and junior high schools.
– From Now On, into My Sixty's-
In photo shooting for schoolbooks, he felt he would go well together with Jin Suzuki and Tomoko Hirayanagi who were then assistants.  They three formed a unit named Ijt (Izumiya, Jin, Tomoko) to pursue a unique worldview by new photo shooting styles which could not be developed by alone.

From now on, I go on my own journey as a photographer and a member of Ijt throughout my life.